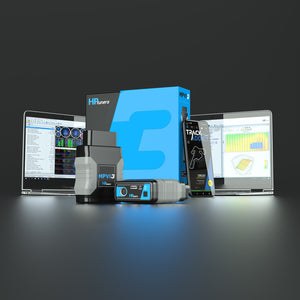 The wait is finally over! The new HP Tuners MPVI 3.0 is finally here and in stock! Enjoy doubled data storage, faster processing speeds, and built-in pro functionality standard with every MPVI 3. This means right when you get the device, you can take advantage of features like stand-alone data logging without needing to upgrade like previous versions of the MPVI. If you want to run additional inputs like CAN and 0 to 5v analog, you just need to purchase the pro link cable as an option on this page or purchase it at a later time.
Alex's Thoughts: 
The HP Tuners MPVI 3.0 is a compact tool that packs a powerful punch! This one tool allows us to read codes, data-log, tune the factory ECU, and pair with their phone app to create an easy-to-setup track data recorder.
Using the VCM Scanner, my technicians can read codes and data-log to diagnose problems with our in-shop vehicles. On the dyno, I can calibrate the factory ECU utilizing HP Tuners VCM Editor software.  
When we go to the track, I pair my MPVI 3 via Bluetooth to my phone to gather data about my lap times, telemetry, and other CAN data overlayed via GPS to satellite imagery. This built-in race recording ability has allowed me to 'tune' my driving skill through data analysis. After a track day, I can share my videos with friends and family. At offroad parks, we have also used it to map trails and record telemetry to show off our pitch and roll!
To see if your vehicle is supported, check out the official HP Tuners Supported Vehicles page. Also, their Facebook for the latest news and releases!
From HP Tuners:
Get equipped with the most inclusive scanning, logging, and calibration package in the industry. Connect > MPVI3 is an advanced OBDII interface tool, connecting your vehicle's control modules to our VCM Suite software. Read > Run complete diagnostics, monitor vehicle performance, read from various vehicle control modules, and more in VCM Suite. Edit > Optimize your performance, fuel economy, or whatever your vehicle goals may be in VCM Editor with a multitude of defined parameters. Write > When you are ready, license and tune any vehicle currently supported by HP Tuners with the fastest read and write speeds available. Drive >>>
From dedicated, exempt race cars to tow rigs, off-road machines, next-level street cars, and fuel-efficient daily drivers, HP Tuners delivers the ultimate solution for builds and enthusiasts of any caliber.