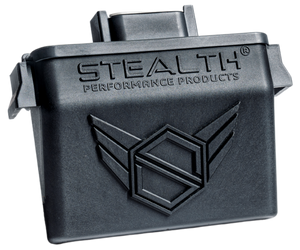 "Take your power back with the Stealth Module exclusively for (2016-2021) Colorado/Canyon 2.8L Duramax diesel trucks. This module is a stand-alone computer that is placed under the hood of your vehicle with no additional supporting modifications or monitoring necessary. Get the most out of your vehicle's performance while remaining warranty friendly.

Works With:
Duramax years: 2016, 2017, 2018, 2019, 2020, 2021
Chevy/GMC Duramax diesel models: 2500, 3500, 4500 chassis, 5500 chassis

Stealth offers a cost-effective approach to taking back your power and maximizing your truck's performance. You no longer have to sacrifice anything in the search for upgrading performance! No need for endless modifications or flashes to your truck's ECM. The Stealth Module is the easiest, no hassle approach to give your diesel a safe improvement of power and performance. Backed by a 1 Year Warranty your purchase includes 24/7 technical support and superior customer service. Finally the high-quality, safe, and non-invasive performance solution your truck has been waiting for.

Keep in mind, your vehicle's factory safety parameters remain in place. The Stealth Module is a safe and upgraded solution for everyday driving and towing tasks. See why thousands of diesel pickup owners and enthusiasts are turning to Stealth.

How It Works The Stealth Module is a stand-alone computer that plugs in under the hood. Our internal software meticulously works to optimize the factory injection pressure to amplify combustion efficiency. By bringing the fuel rail pressure to its desired pressure sooner it allows for finer fuel atomization and a more complete fuel burn. In turn, the engine receives better combustion quality, efficiency, and power output. The end result is more torque when and where you need it, improved overall drivability performance and vehicle responsiveness.

Keep in mind, your diesel truckÕs factory safety measures stay in place. The module is a safe solution for everyday driving and towing.


Improved overall drivability, vehicle responsiveness and performance
Increase in low to midrange power -where you need it (Better take-off and efficiency through the bottom end gears)
Smooth and predictable power across the low-mid RPM ranges prevent the transmission from struggling to find power and hold gears longer
Safe for towing and everyday driving while improving performance
Increased horsepower and reliable torque
All-weather factory style OEM plug and play connectors for quick and easy installation
Engine operates safely within manufacturer parameters
Factory safety measures/fail safes stay in place
Warranty friendly: must be removed before service
No external OBD II monitors or supplemental devices required
Selectable 4 position switch: Stock, Low, Medium, and High "