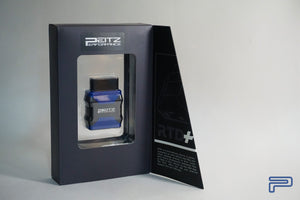 Peitz Performance is no stranger to the Hellcat platform. Since its inception, Peitz Performance has been at the forefront of Hellcat tuning development starting with the Challengers and Chargers and now the TRX, Durango, and Trackhawk. In fact, Peitz Performance was the first to tune the Hellcat as well as set multiple records since then. Take advantage of the years of research and development with a Hellcat-specific tune from the Peitz Performance team! This tune will not only produce more horsepower, but will also enhance throttle response, shift time and feel (with trans tune option selected), and really make the car feel how it should have from the factory! These cars produce 15 more horsepower just with increasing the rev range by another 200 to 300 RPM. Typically expected horsepower gains are near 30 horsepower or more depending on other variables.

---
Simply plug your HP Tuners device directly into the OBDII Port and connect the Bluetooth RTD to your Android or iPhone to Plug-In Power!
 ---
If you do not have a device yet, select the option for an HP Tuners RTD device for flashing and data logging.
The base price is the "file only option" and is perfect for performance shops and individuals who already have the hardware and credits and are ready to add some power to their stock or mostly stock Hellcats.